Mercedes Electric 9 Seater Hire
Mercedes Electric 9 Seater Hire
Hire the all-new electric Mercedes 9 Seater Hire from Season Car Rental today.
If you need a vehicle to transport a large group of of nine and would prefer an automatic people carrier, choose the stylish Mercedes Electric Tourer.
The automatic transmission makes it easier to drive while your passengers travel in comfort in a spacious, well-designed 9 seater. While the electric charge makes it cheap to run.
Perfect for family holidays, team business trips, sports events or group weekends away, the Mercedes minibus boasts a stack of features.
There are numerous seating options, reversing censors, connectivity to your smartphone and a USB port among others.
Easy to manoeuvre, this vehicle comes with park assist and a host of safety features too, giving you the peace of mind you need when carrying a group of passengers.
Hirers receive 100 free miles per day – after which the mileage charge is 50p + VAT per mile.
This vehicle is subject to a £1000 insurance excess (deposits can be increased on a collection of vehicles).
To drive this vehicle you need to be over the age of 25 and have held a full license and driven regularly for the last 3 years.
When collecting this vehicle you will need to have your UK driving license along with your DVLA licence check code (to complete an online licence check), your credit/debit card and 2x utility bills as proof of address (we do not accept mobile phone contracts).
There is a small extra cost for any additional drivers of £25 per driver per day if required.
We endeavour to provide all our customers with the vehicle they request; unfortunately, we cannot guarantee a particular model or every specification.
Rent the New Mercedes 9 Seater Hire today. Call 02079079150. Alternatively, you can hire the Mercedes V Class which can seat 8 passengers in extreme comfort.
Maybe you require something more practical, in that case why not try one of our 4×4 Range Rovers with 7 seats.
You might be also Interested in.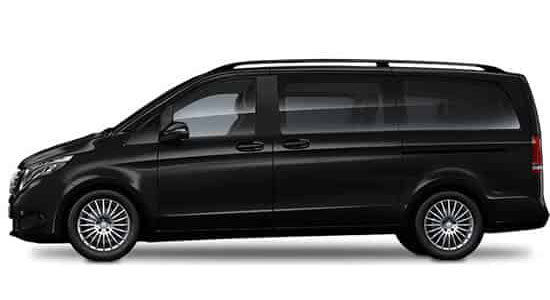 Mercedes V Class Hire
Once again, Mercedes-Benz has introduced a model that evolves the field of luxury cars with the V-Class. It offers the expected spaciousness of a minibus, yet Mercedes-Benz updates the category with unexpected modern twists. With high-end design and innovative technological features the V-Class makes for an ideal luxury car hire when looking for a whole new group travel experience. Mercedes V-Class Hire is available today with Season Car Rental.